Dance Church announces Summer Pop-Up Tour in San Francisco, Portland, Boston, Chicago, Seattle and LA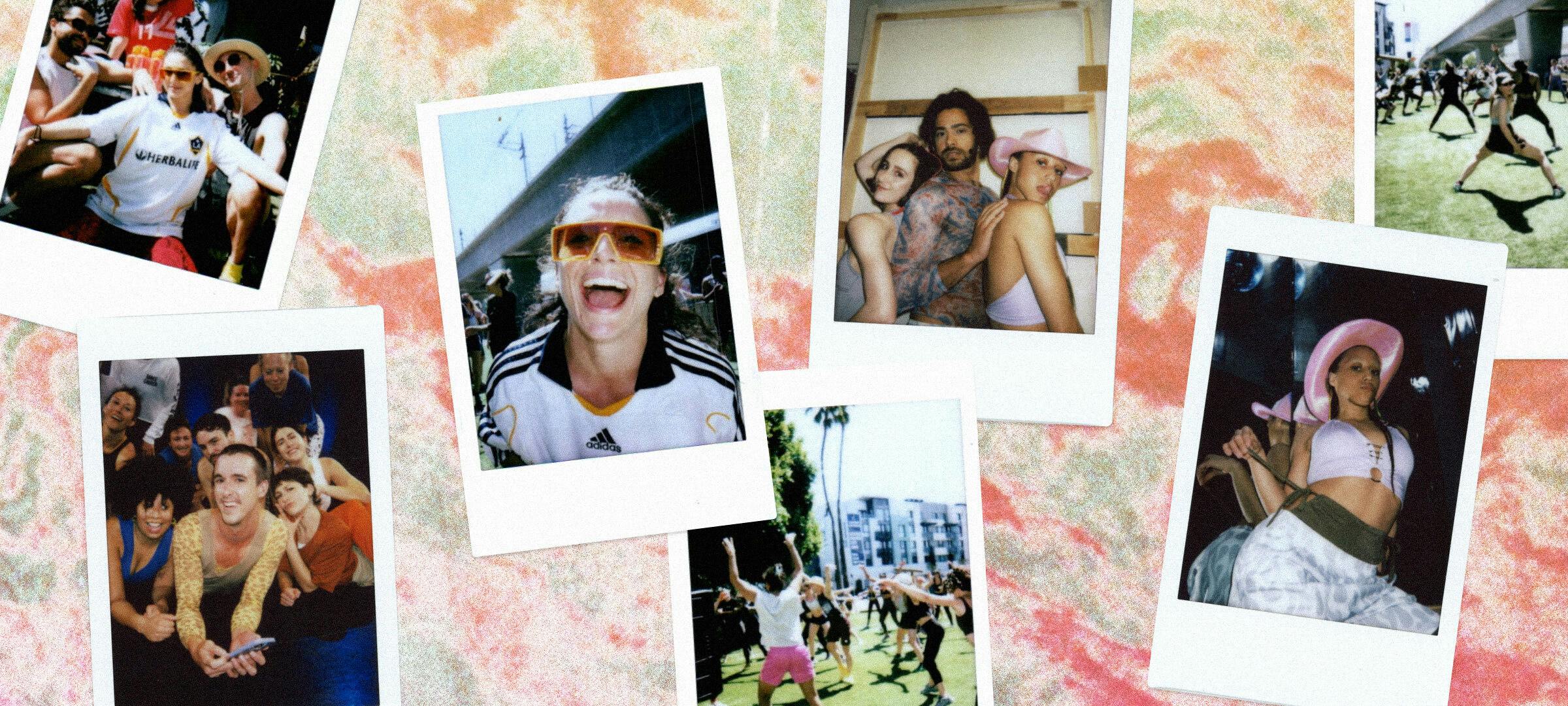 Dance Church®, the wildly-popular dance-focused movement class, announces a Pop-Up Tour bringing the beloved 55ish-minute format to San Francisco, Portland, Boston, and Chicago this summer, along with partnership events in Seattle and Los Angeles. All Pop-Ups are free for Dance Church Members and $20 for the general public. Registration is open for the first Portland event on June 18 at go.dancechurch.com/irl.
"We are especially excited to be dancing in-person with our communities in Portland, SF, Boston and Chicago after a long covid hiatus", said Dance Church Founder Kate Wallich. "Pop-Ups have always been our first step towards launching on-going classes in new cities and we are finally in a position operationally to intentionally organize a tour."
Most events this summer are in partnership with community and arts organizations, continuing a model that supports these organizations while flourishing community and enriching the experience.
"Part of our mission at Dance Church is to support dance-centered spaces. We are thrilled to be partnering with local dance organizations in new cities, continuing our commitment to bring dance to more people," said Director of Programming Lavinia Vago. "We are also very excited to be partnering with cultural organizations, museums, and festivals for the summer Pop-Up tour. These partnerships help expand the Dance Church experience, continuing to envision how dance can exist everywhere and anywhere."
All Pop-Up events will be free for Dance Church Members and a friend. "Members power Dance Church and make sustainable support possible for the dance artists who teach each class," said Dance Church CEO Clara Siegel. "They're the heart beat of our community and we are always looking for ways to say thank you."
Events List:
San Francisco, June 12, Joe Goode Annex 
San Francisco, July 9, Joe Goode Annex
San Francisco, August 7, Joe Goode Annex
San Francisco, August 21, Joe Goode Annex
Portland, June 18, Open Space
Portland, July 12, SKC Dance Center
Portland, July 23, Open Space
Seattle, July 21 with the Frye Art Museum/Jeremy Shaw: Liminals exhibition
Seattle, August 11 with Volunteer Park Summer Concerts
Seattle, September 17 with Alaska Airlines/Alaska Airlines Hangar, SeaTac
Akron, June 4 with The National Center for Choreography 
Boston, July 16, The Dance Complex
Chicago, July 31, Visceral Dance Center
Los Angeles, September 16 with Platform LA in partnership with Sézane
The partnership with the Frye Art Museum in Seattle is a special class and gallery tour inside of the Jeremy Shaw: Liminals exhibition on Thursday, July 21st. Shaw's work explores altered states and the cultural and scientific practices that attempt to capture the transcendental experience. Participants will be moving, dancing, and sweating to loud beats and light projections inside the installation guided by Lead Teacher Lavinia Vago.
The partnership with Volunteer Park Summer Concerts in Seattle celebrates the launch of the newly constructed Volunteer Park Amphitheater. Dance Church will open the evening with a class on August 11th from 5:30-6:30pm followed by performances from local dance companies: The Seattle Project, Whim W'Him and Lucien Postleweite.
"To finally meet someone in person, when we've been dancing together online for over two years, is such a special experience," said Dance Church Teacher and Associate Director of Programming, Thomas House. "We are finally able to come back to cities where we've had community, in partnership with aligned organizations. We hope to do many more of these in the future."
About Dance Church:
Dance Church has been bringing people together through the joy and release of dance since 2010 — in real life and on the internet. Designed for people of all shapes, sizes, backgrounds and identities, Dance Church is on a mission to empower people through dance. Visit go.dancechurch.com to take classes on-demand, join the live-stream every Sunday, or register for in-person classes.
About Kate Wallich:
Kate Wallich (she / her) is the Founder and Chief Creative Officer of Dance Church. Kate is a Seattle-based choreographer who believes in the combined power of artists and the public. A dancer, choreographer, educator, and founder who was named one of Dance Magazine's "25 To Watch," Kate has cultivated community through her inclusive dance-fitness class Dance Church®, her dance companies The YC and YC2, and the non-profit arts organization she founded in 2016, Studio Kate Wallich. Kate's work has been commissioned and presented nationally and internationally by the Walker Art Center, On the Boards, Seattle Theater Group, Mass MoCa, The Joyce Theater, Seattle Art Museum and many more.  In 2019 she collaborated with Perfume Genius on the critically acclaimed dance and music performance The Sun Still Burns Here.
About Lavinia Vago:
Lavinia Vago (she / her) is the Artistic Director of Programming and a Lead Teacher at Dance Church. Lavinia is an Italian dance artist, performer, educator, and director based in Seattle and working between New York City, Los Angeles, Montreal, Vienna and Berlin. Lavinia has collaborated, performed, created works and toured with Sidra Bell Dance New York, Loni Landon Projects, Vim Vigor Dance Theater, Saint Genet, Tom Weinberger, Corrie Befort,  and most extensively with Montréal based Rubberband. Lavinia has been Associate Artistic Director of the non-profit Studio Kate Wallich (2017-2020), has been the rehearsal director of YC2 (a platform for emerging dance artists), and co-founded and co-directed dance company "The YC" with Kate Wallich. She is currently working with Tianzhuo Chen | Asian Dope Boys and touring the world with "Trance" and "Physis". As an educator, Lavinia also teaches Dance for Parkinson's, Rubberband Method, and masterclass series, intensives and workshops aimed to subvert and rethink dance contemporary technique, floor work, and improvisation. Lavinia experiments, processes and creates dance works as a solo artist.
About Clara Siegel:
Clara Siegel (she / her) is the CEO of Dance Church, the wildly-popular dance-focused movement class offered in real life in Seattle, LA, and NYC, and on the internet at go.dancechurch.com. Clara comes from a background scaling community-driven technology products and creator platforms having worked at Facebook, Amazon, and Tableau. Clara holds a BA in Theoretical Mathematics from Reed College and an MBA from Stanford GSB.
About Thomas House:
Thomas House (he / him) is the Associate Programming Director, a Dance Church Lead Teacher, and leads the Music Licensing & Curation team. Thomas has been teaching and helping to expand the organization since 2017 including leading over 200 classes with audiences ranging 10 to 6000 people. Thomas is a dance artist, performer, teacher, creator, and thinker based in Seattle, WA. Throughout his dance career, Thomas has performed and traveled around the world with companies including Kate Wallich & The YC, Aszure Barton & Artists, Abraham in Motion, Seattle Opera, and the Merce Cunningham Trust. As a choreographer, Thomas has presented creations with composer Kayla Cashetta in NYC and Seattle. Thomas's creative practice and interests inhabit a disorienting fantasy, with elements of humor, dystopia, conspiracy, queerness and sensitivity.
For more information on Dance Church, please contact: 
Ali ali@culturalcounsel.com
Lauren lauren@culturalcounsel.com