Announcing auditions for dance artists to become instructors
Dance Church is hiring teachers in New York City & Los Angeles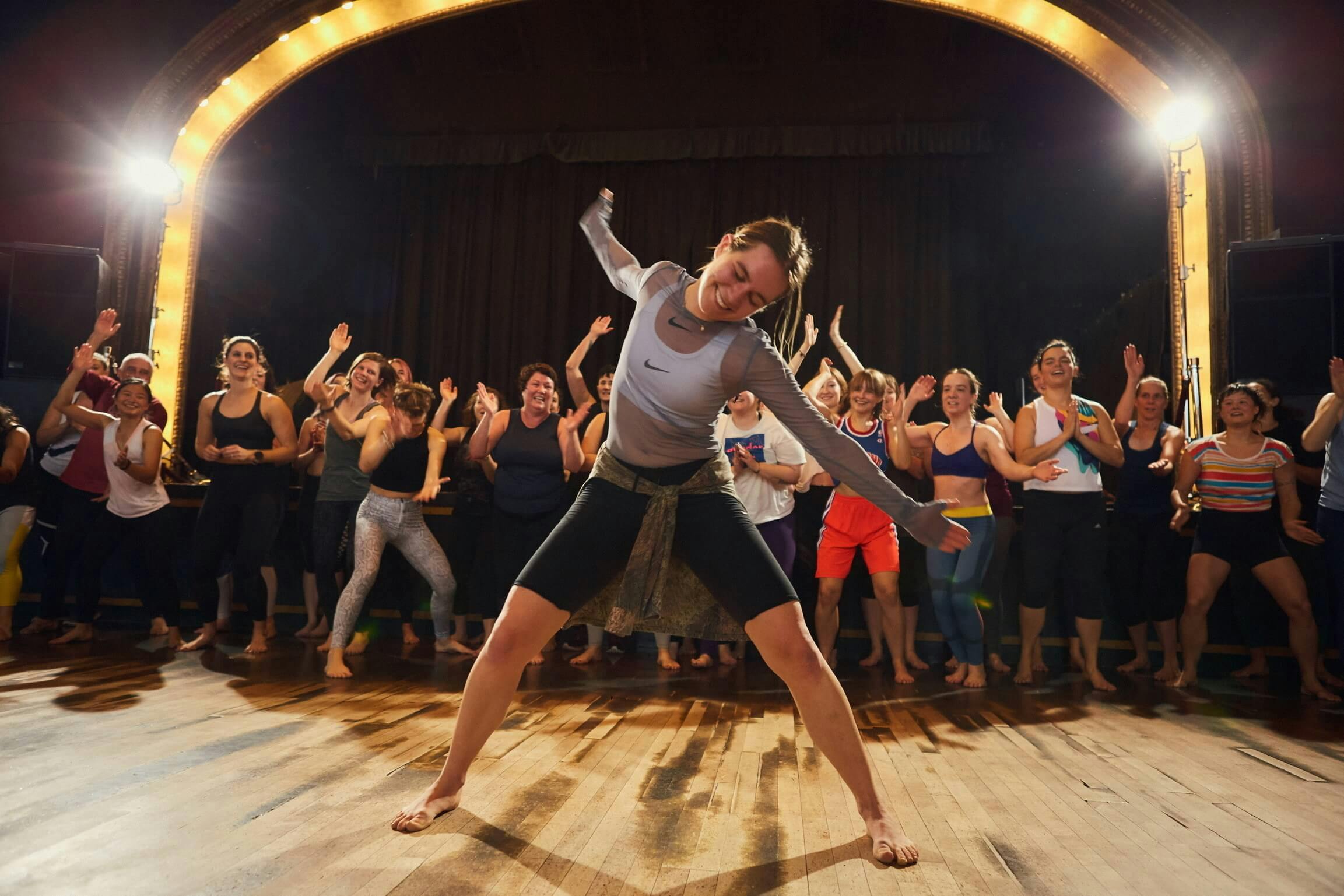 Dance Church®, the wildly-popular dance-focused movement class, today announced auditions for dance artists who are based in New York City and Los Angeles. Dance artists will be trained and lead weekly in-person classes at partnering spaces in NYC & LA, and take part in Dance Church Go productions in Seattle.
"We are so excited to be going through our first official audition process to find more professional dance artists to join our team," said Kate Wallich, Dance Church Founder and Chief Creative Officer, "As we grow, we are thrilled to be able to expand support to more dance artists and spread joy through dance to our broader community."
Dance Church has been bringing people together through the joy and release of dance since 2010. Bringing together fitness, performance and dance parties, hundreds of thousands of people have attended in person pop-up classes around the world or on the internet at go.dancechurch.com. Dance Church is designed for people of all shapes and sizes, backgrounds, and identities, and builds connection and community through shared experiences. Dance Church is on a mission to empower dancers everywhere — from teachers to takers.
"Our teachers are the core of our company, the foundation of our brand and the leaders of our experience. We are looking for Professional Dance Artists actively working in the field, who are excited to build community and spread the joy and release of dance to people everywhere, both online and in-person!" said Director of Programming Lavinia Vago.
Dance artists employed at Dance Church are encouraged to pursue their artistic careers alongside their roles at Dance Church, which include teaching, community engagement and creating their own content. Dance artists interested in becoming a Dance Church instructor should apply online. Following the application process, select candidates will be invited to auditions in New York City and Los Angeles.
Dance Church has been bringing people together through the joy and release of dance since 2010 — in real life and on the internet. Designed for people of all shapes, sizes, backgrounds and identities, Dance Church is on a mission to empower people through dance. Visit go.dancechurch.com to take classes on-demand, join the live-stream every Sunday, or register for in-person classes.
Kate Wallich (she / her) is the Founder and Chief Creative Officer of Dance Church. Kate is a Seattle-based choreographer who believes in the combined power of artists and the public. A dancer, choreographer, educator and founder who was named one of Dance Magazine's "25 To Watch," Kate has cultivated community through her inclusive dance-fitness class Dance Church®, her dance companies The YC and YC2, and the non-profit arts organization she founded in 2016, Studio Kate Wallich. Kate's work has been commissioned and presented nationally and internationally by the Walker Art Center, On the Boards, Seattle Theater Group, Mass MoCa, The Joyce Theater, Seattle Art Museum and many more. In 2019, she collaborated with Perfume Genius on the critically acclaimed dance and music performance 'The Sun Still Burns Here'.
Lavinia Vago (she / her) is the Artistic Director of Programming and a Lead Teacher at Dance Church. Lavinia is an Italian dance artist, performer, educator, and director based in Seattle and works between New York City, Los Angeles, Montreal, Vienna and Berlin. Lavinia has collaborated, performed, created works and toured the world with Sidra Bell Dance New York, Loni Landon Projects, Vim Vigor Dance Theater, Saint Genet, Tianzhuo Chen, and most extensively with Montréal based Rubberband. Lavinia has been Associate Artistic Director of the non-profit Studio Kate Wallich (2017-2020), has been the rehearsal director of YC2 (a platform for emerging dance artists), and co-founded and co-directs dance company "The YC" with Kate Wallich. As an educator, Lavinia also teaches Dance for Parkinson's, Rubberband Method, and masterclass series, intensives and workshops aimed to subvert and rethink dance contemporary technique, floor work, and improvisation. Lavinia experiments and creates dance works as a solo artist.
Thomas House (he / him) is the Associate Programming Director, a Dance Church Lead Teacher, and leads the Music Licensing & Curation team. Thomas has been teaching and helping to expand the organization since 2017 including leading over 200 classes with audiences ranging 10 to 6000 people. Thomas is a dance artist, performer, teacher, creator, and thinker based in Seattle, WA. Throughout his dance career, Thomas has performed and travelled around the world with companies including Kate Wallich & The YC, Aszure Barton & Artists, Abraham in Motion, Seattle Opera, and the Merce Cunningham Trust. As a choreographer, Thomas has presented creations with composer Kayla Cashetta in NYC and Seattle. Thomas's creative practice and interests inhabit a disorienting fantasy, with elements of humor, dystopia, conspiracy, queerness and sensitivity.
Tariq Mitri (he / him) is the Training Lead, and a Lead Teacher at Dance Church. He has been a part of the Dance Church family since 2017, and has helped with the growth of IRL classes in New York City, starting in 2019. Tariq is a freelance dance artist, and has worked for a variety of choreographers in Los Angeles, New York City, and Seattle. These artists include: MADBOOTS Dance, Kate Wallich + The YC, WHYTEBERG, and HEIDCO. Tariq is passionate about the growth of all our teachers, future and present, to provide access and opportunity to a sustainable lifestyle as freelance artists.
For more information on Dance Church, please contact:
Ali ali@culturalcounsel.com
Lauren lauren@culturalcounsel.com