A Farewell Message from Dom ❤︎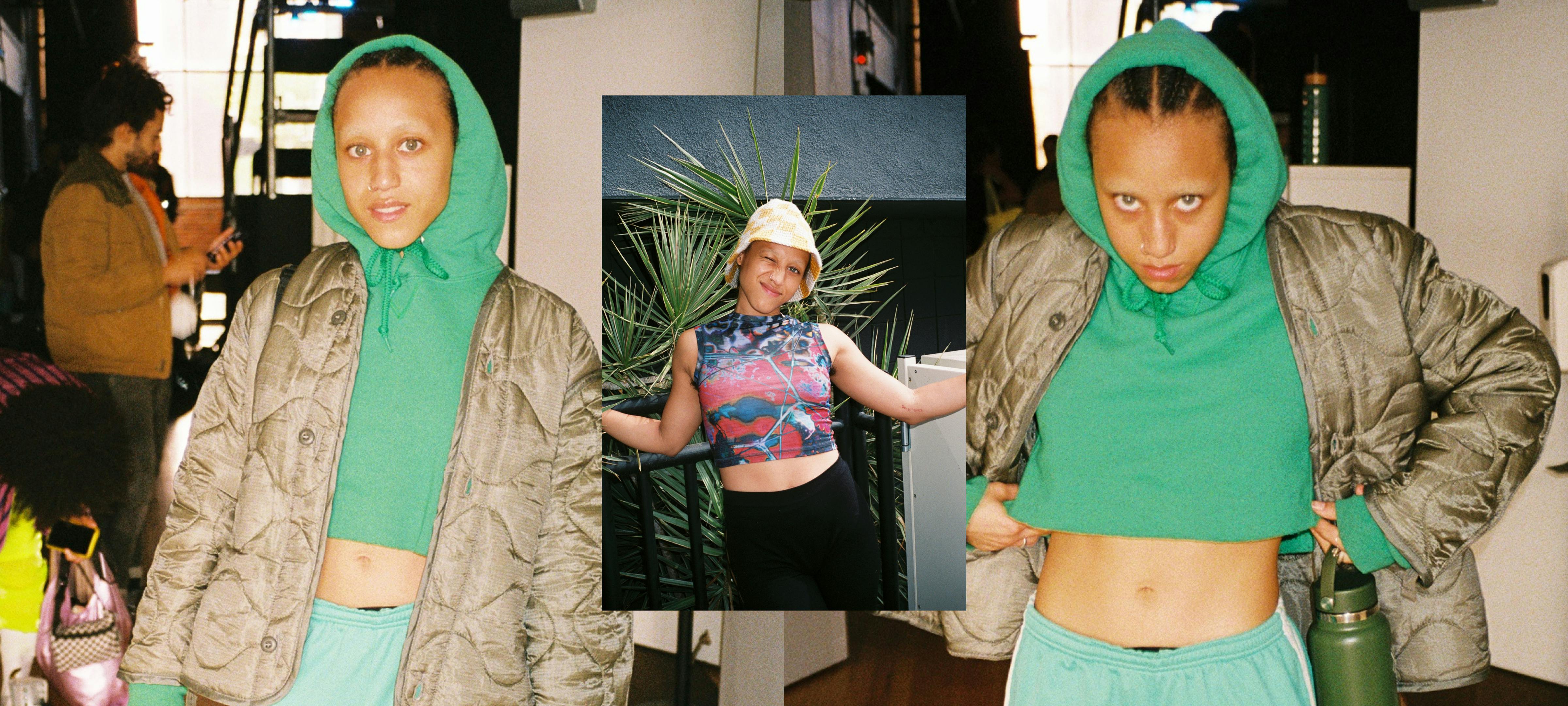 Dance Church Family ❤︎
I had no idea that when I moved to Seattle to dance professionally in 2018, I would be meeting people and joining a community that would change my life forever, for the better. I have now been teaching Dance Church for 4+ years... It has taken me all over the country, all over the globe (through people's computer screens ;)), and connected me with so many of the most beautiful, joyous, sweaty dancing spirits <3333333 I am so grateful for the wealth of knowledge, AND LOVE, that I have gained from being involved with this community. 
It is with a dancing heart that I share that I will be leaving Dance Church as a teacher at the end of the year, and that my final class is Monday December 19th ~
Kate Wallich asked me if I wanted to teach Dance Church immediately after I took my first class in January 2018. I suppose she saw in me what I felt in myself: that I had landed at home. As someone who had been training in dance since the age of 4, and who had dedicated every free moment of my life to becoming the best technical dancer possible, I inadvertently lost my connection to why I started dancing to begin with: because I love to dance. Not do pirouettes, not kick my leg to my head, not execute arbitrary choreography with the hope of achieving perfection… I love to dance. That first DC class brought me back to my core… and I was addicted.
I traveled to Seattle in April 2018 to dance with the YC2, and got trained to teach one September evening after a long day of rehearsal in Kate's Capitol Hill apartment listening to Drake and eating pizza. I taught my first DC that next Saturday morning :) surrounded by AAAALLLL my new friends and loved ones. It was an experience (and a playlist) I will never forget.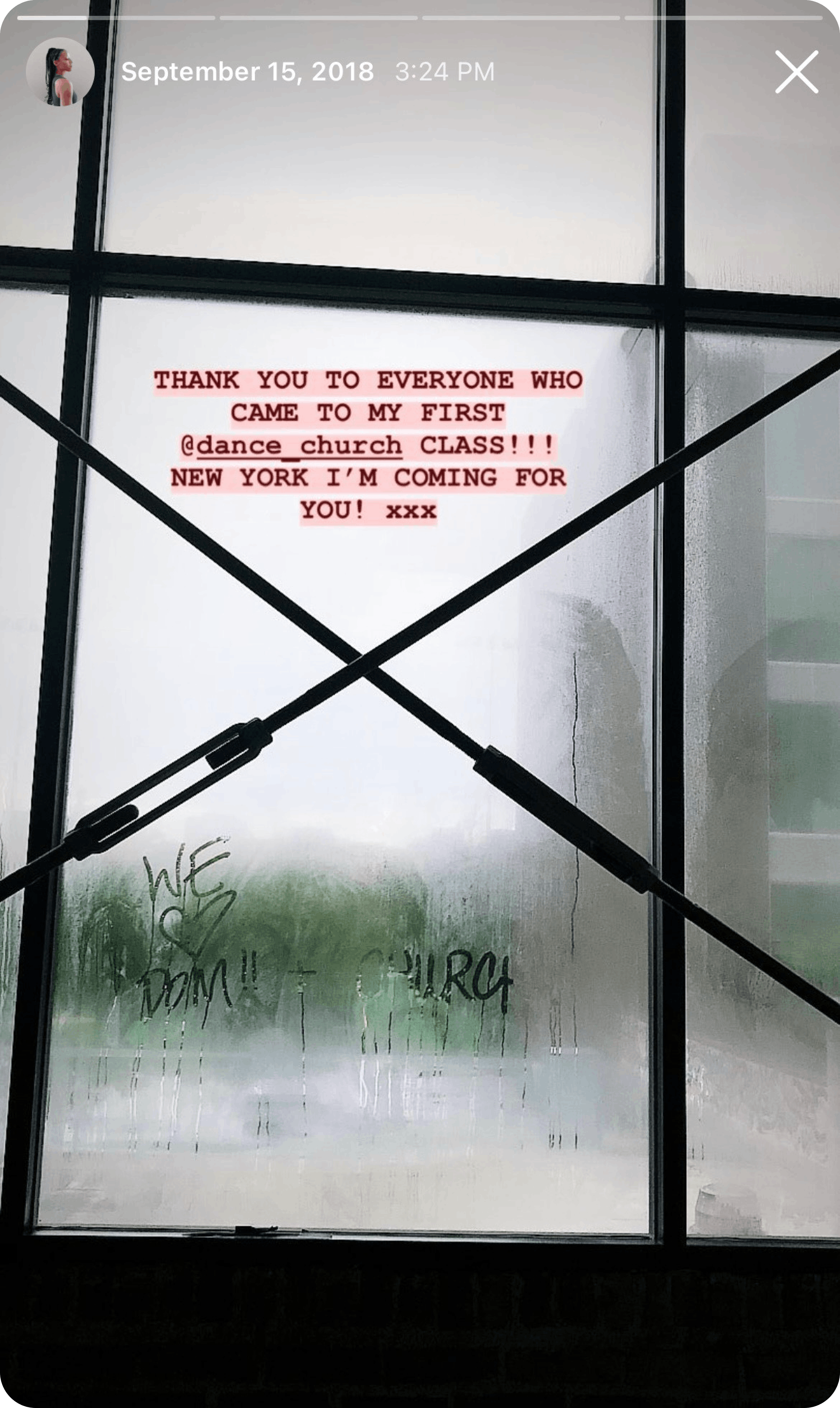 For fun: here is my FIRST ever Dance Church playlist :)
When I got back to New York later that year, I helped Tommy get classes off the ground! I was teaching weekly for a looooong time… back when we had a Sunday morning class at Gibney and a *some other day* evening class at Mark Morris. Back when Mark Morris class used to be on the 4th floor in the smaller studio. Back when we connected the phone by aux instead of bluetooth, and folks paid cash at the door. Back when we had 10-stamp heart cards <3 Back when…
I can never forget that first year of DC in New York… Classes with 5 attendees. Me begging my friends to come and telling them it's free, just please show up. Lugging a money bag and card swiper to every class. Rolling up hoping that at least 10 people would show up! It was rough there for a minute, as most beginnings are. But, we did that! And look at us now :) 
I said goodbye to my special New York community in 2019 when I moved to Salt Lake City for a job. My first order of business was launching a weekly DC class, which we did immediately! Check out the flier for our first ever SLC Pop-Up!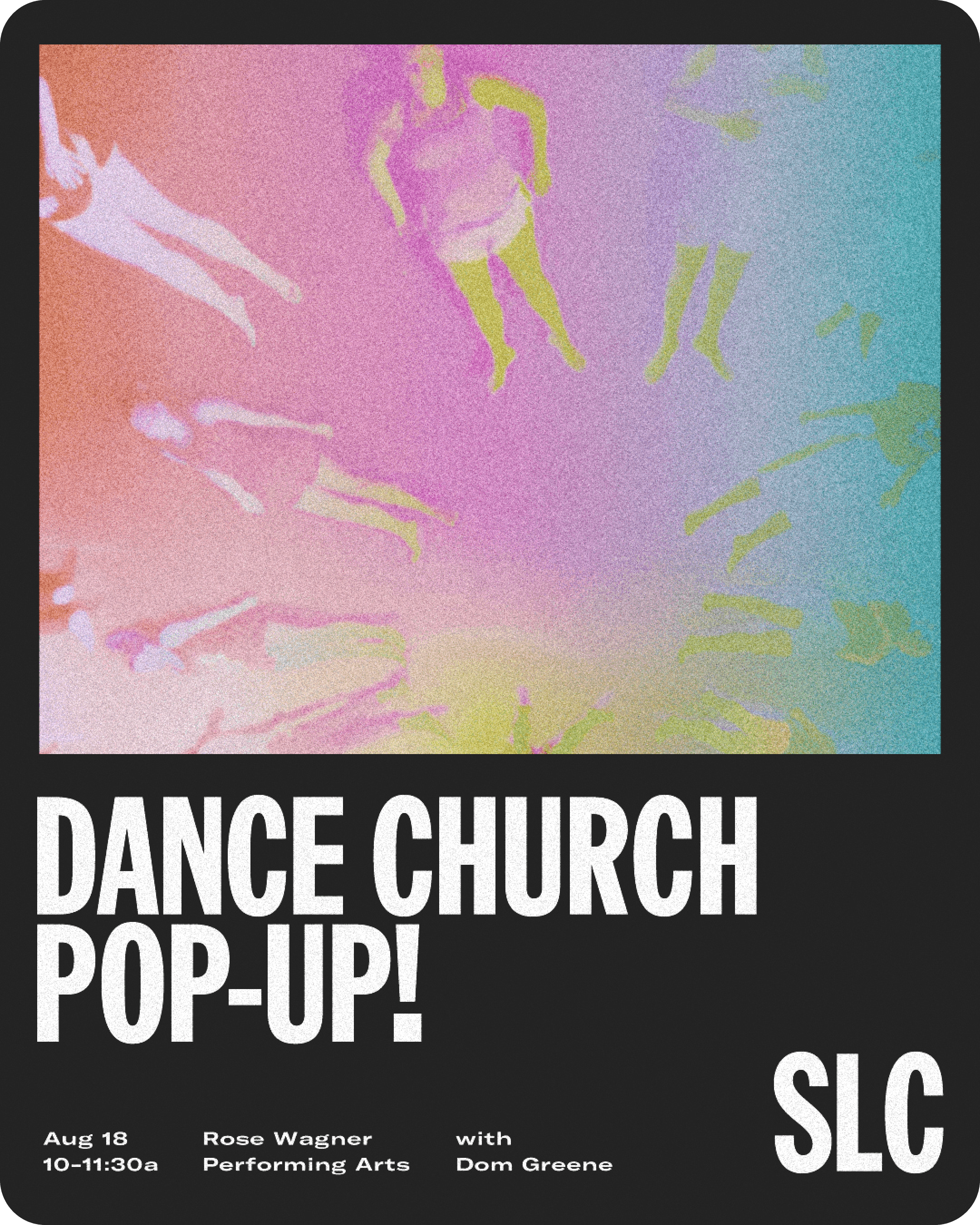 I loved our beautiful dancing community in Salt Lake so much! So many new folks showed up every week to check out this wild new dance party that was being shouted about all around town… *by me and my friends.* Eventually, Kate came to town and we trained two new folks: Mar and Courtney! Incredible dance artists, teachers, and my very dear friends. For many months we held class every Sunday morning, and established a boisterous, fun-loving group of die-hard dance lovers! 
And then… well, you know what happened. But we kept on keeping on :) And for several weeks a group of us danced together so sweetly to Sunday's Go live-stream! This is a screenshot of the SLC crew taking Lavi's class on Zoom on April 26, 2020 <3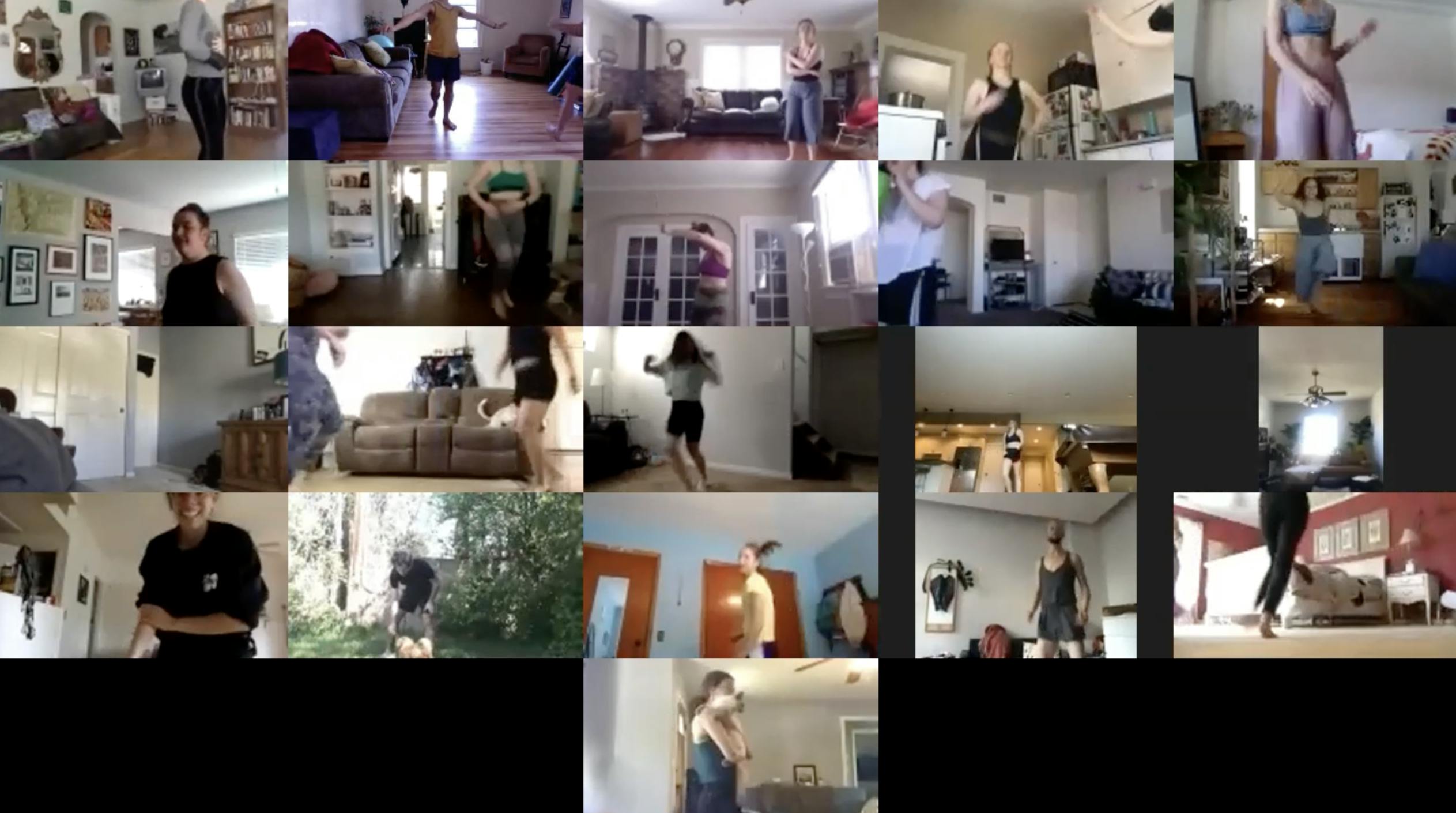 Sadly, in-person classes in Salt Lake City were not able to resume before I left Utah. Although, Mar did just teach a wonderful pop-up there last weekend! Say it with me: BRING DANCE CHURCH BACK TO SALT LAKE!!!
I'm now back in New York, where I have been teaching Dance Church regularly for over a year now. I've seen the community expand and brighten! I've assisted in this growth in many ways that I am proud of. I've learned SO much about raw movement, guiding a space, sharing and holding space with others, experiencing transformative love in a studio, and on and on. Dance Church changed my life, and returned my original love of moving back to me. It continues to enliven my love of music and the organic dancing body, and teaches me that dance and movement is forever our guide towards true liberation.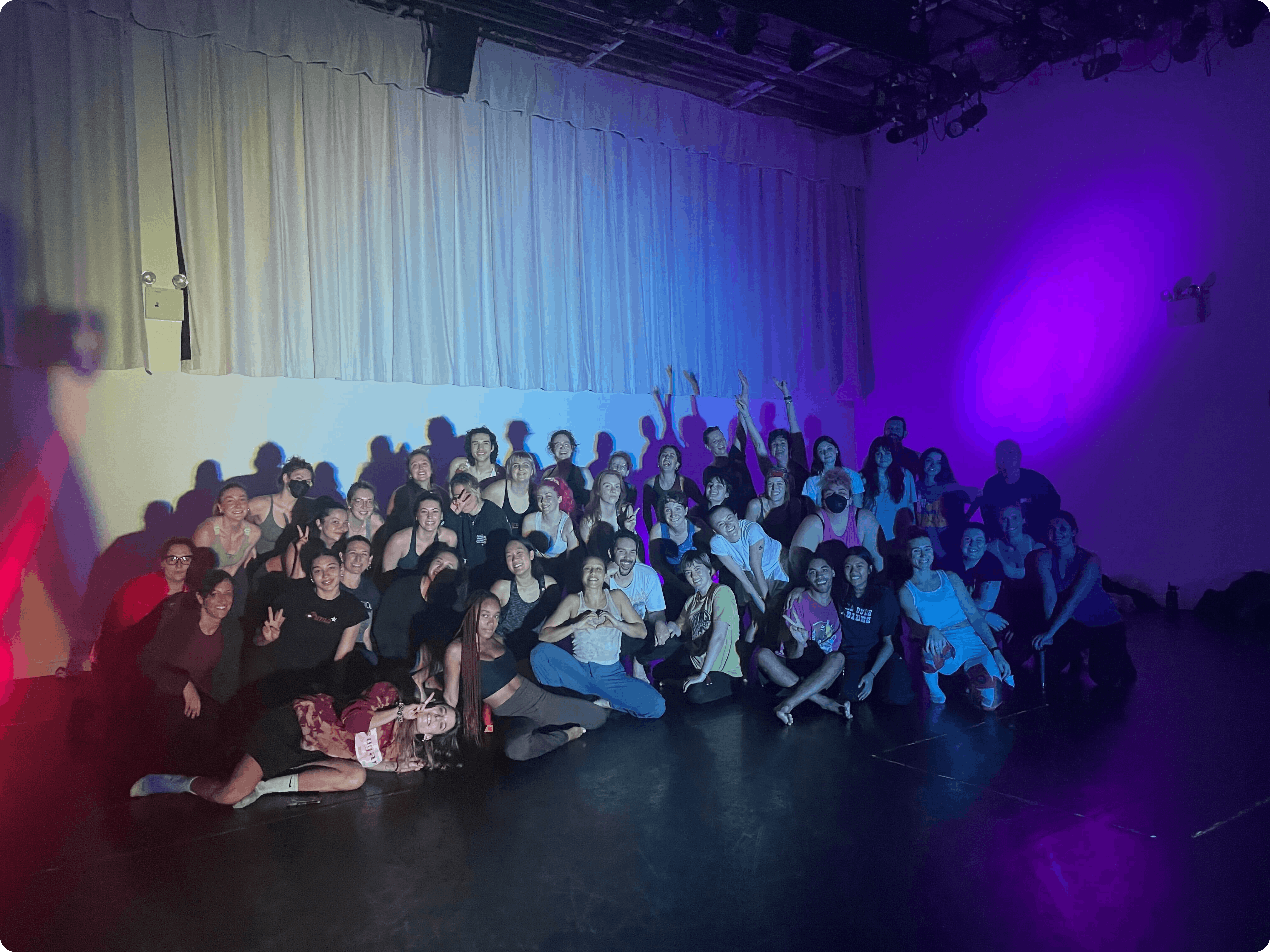 Dance Church's mission means a lot to me; I vehemently believe in spreading the joy of dance with and to as many people as possible. Which is why I am stepping away from the organization… So that I can explore my own ways of expressing this sentiment. I believe that any body is a moving body, and any moving body is a dancing body, and that each person in this world has the ability to access their dancing body in their own way. At this time, I am called to focus on my own output, and am excited to experiment with and explore how my personal philosophies manifest in my work as a movement-based conceptual artist. 
Thank you for dancing alongside me for all of these years ❤️ We will continue to dance, as I am not going anywhere. You can still look forward to seeing me twerk my ass off in Mar's class, or hearing me scream profanities across the room in Laura's class when one of my favorite bop's comes on. Dance Church is a part of my life forever, because dance is forever. And please keep in touch with me in any and all of the ways, because community is forever.
Thanks for the dance ~ I love you
xo