Announcing return to full IRL schedule & Lead Teachers
IRL in New York, Los Angeles & Seattle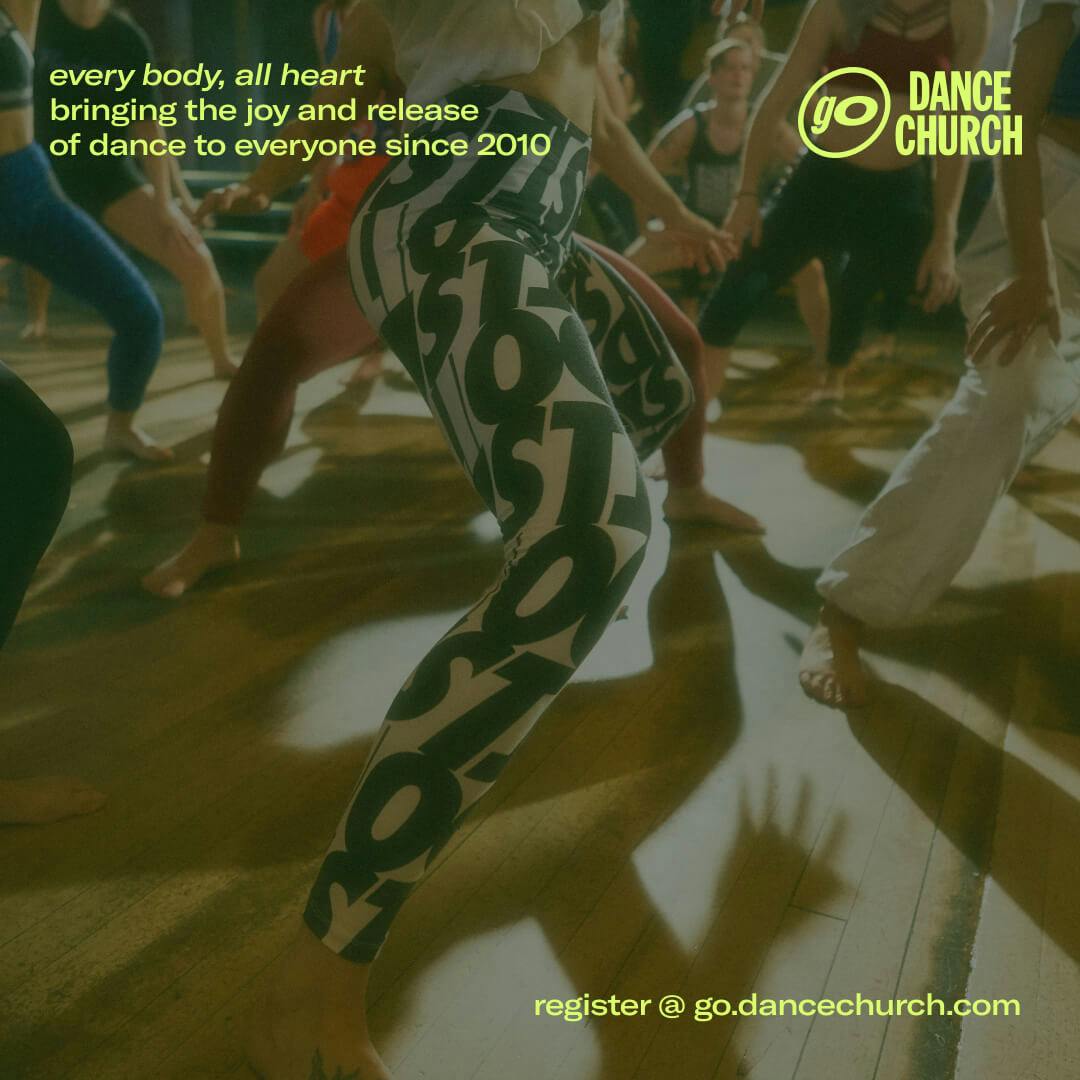 Dance Church®, the wildly-popular dance-focused movement class, announces its official return to in-person classes this week, alongside online classes. Following a soft-launch of IRL classes which saw Dance Church begin to slowly return to New York, Los Angeles and its hometown of Seattle, Dance Church IRL will now offer two classes a week in each city. With COVID-19 protocols in place, including vaccination and masks required, weekly registration opens on Thursday, October 14th at 8 AM PT for subscribers and 9 am PT for non subscribers. Subscribers can purchase classes at a discounted rate of $15, as opposed to the regular $20 rate. The full class schedule will roll out in each city beginning October 16th. Become a subscriber for early access to classes HERE and purchase tickets HERE.
Dance Church is also excited to announce the launch of their Lead Teachers: Dominica Greene, Tariq Mitri, Laura Carella, and Joe Davis. These dancers will join Dance Church founder Kate Wallich, Director of Programming, Lavinia Vago, and Associate Director of Programming, Thomas House as the core Dance Church instructors. With this new role, Dance Church is launching a new system of employment for dance artists that holistically supports their careers through salary, benefits and equity grants in the company. Dance artists are encouraged to pursue their artistic careers alongside their roles at Dance Church, which include teaching, community engagement and creating their own content. This initial group of lead teachers are also actively evolving this programming as they work towards solutions to old-school models in the arts that simply do not work or scale. Additionally, they will work to implement the best practices associated with the recent partnership with Dance For All Bodies, ensuring all classes provide accessible and inclusive techniques that dismantle ableist narratives.
Dance Church is proud to partner with local dance spaces in Seattle, New York, and Los Angeles to offer in-person classes. With this announcement, Dance Church is partnering with Seattle dance studios Century Ballroom and Washington Hall, New York's Gibney Dance Center and Mark Morris Dance Center, and Los Angeles's Stomping Ground LA and L.A. Dance Project.
Kate Wallich says of the new employment system: "Imagine a world where dance artists are paid to engage with their communities and get to make the work they want to make while provided with the resources and tools to do so. This is what we are innovating here."
Led by director and choreographer Kate Wallich and CEO Clara Siegel, Dance Church began in 2010 as a way to offer a joyful and inclusive approach to fitness — through dance. With carefully curated playlists and professional dancers driving the experience, the community-driven format of entertainment exercise was created and took off. In response to COVID-19 and the subsequent lockdown that left many in search of new ways to exercise, let out pent up energy, and experience the freedom often reserved for the dance floor, Dance Church launched Dance Church Go, a live streamed alternative to their in-person classes. Soon after, they partnered with Seattle-based startup studio Pioneer Square Labs to launch their subscription video on demand platform and brought on CEO Clara Siegel. With Dance Church Go, the Dance Church movement has reached a massive audience and has brought joy to living room dancers all over the world.
Dance Church has been bringing people together through the joy and release of dance since 2010 — in real life and on the internet. Designed for people of all shapes and sizes, backgrounds and identities, Dance Church is on a mission to empower people through dance. Visit go.dancechurch.com to take classes on-demand, join the live-stream every Sunday, or to register for in person classes.
Kate Wallich (she / her) is the founder and chief creative officer of Dance Church. Kate is a Seattle-based choreographer who believes in the combined power of artists and the public. A dancer, choreographer, educator, and founder who was named one of Dance Magazine's "25 To Watch," Kate has cultivated community through her inclusive dance-fitness class Dance Church®, her dance companies The YC and YC2, and the non-profit arts organization she founded in 2016, Studio Kate Wallich. Kate's work has been commissioned and presented nationally and internationally by the Walker Art Center, On the Boards, Seattle Theater Group, Mass MoCa, The Joyce Theater, Seattle Art Museum and many more. In 2019 she collaborated with Perfume Genius on the critically acclaimed dance and music performance The Sun Still Burns Here.
Clara (she / her) is the CEO of Dance Church, bringing people together through the joy of dance and movement. Prior to Dance Church, Clara led many of Facebook's pivotal community and growth initiatives across streaming, gaming, and video calling and will help lead and scale the Dance Church business model. With a Mathematics degree from Reed College and an MBA from Stanford GSB, Siegel brings leadership, product, analytical horsepower, and operational experience to the team.
About Pioneer Square Labs:
Pioneer Square Labs is a Seattle-based startup studio and venture firm (PSL Ventures) that finances, creates, and launches technology startups. For more information, visit www.psl.com.
For more information on Dance Church, please contact: Grandstand Media
Lisa Gottheil - lisag@grandstandhq.com
Jaclyn Ulman - jaclynu@grandstandhq.com