Dance Church announces partnership with award winning author Angela Garbes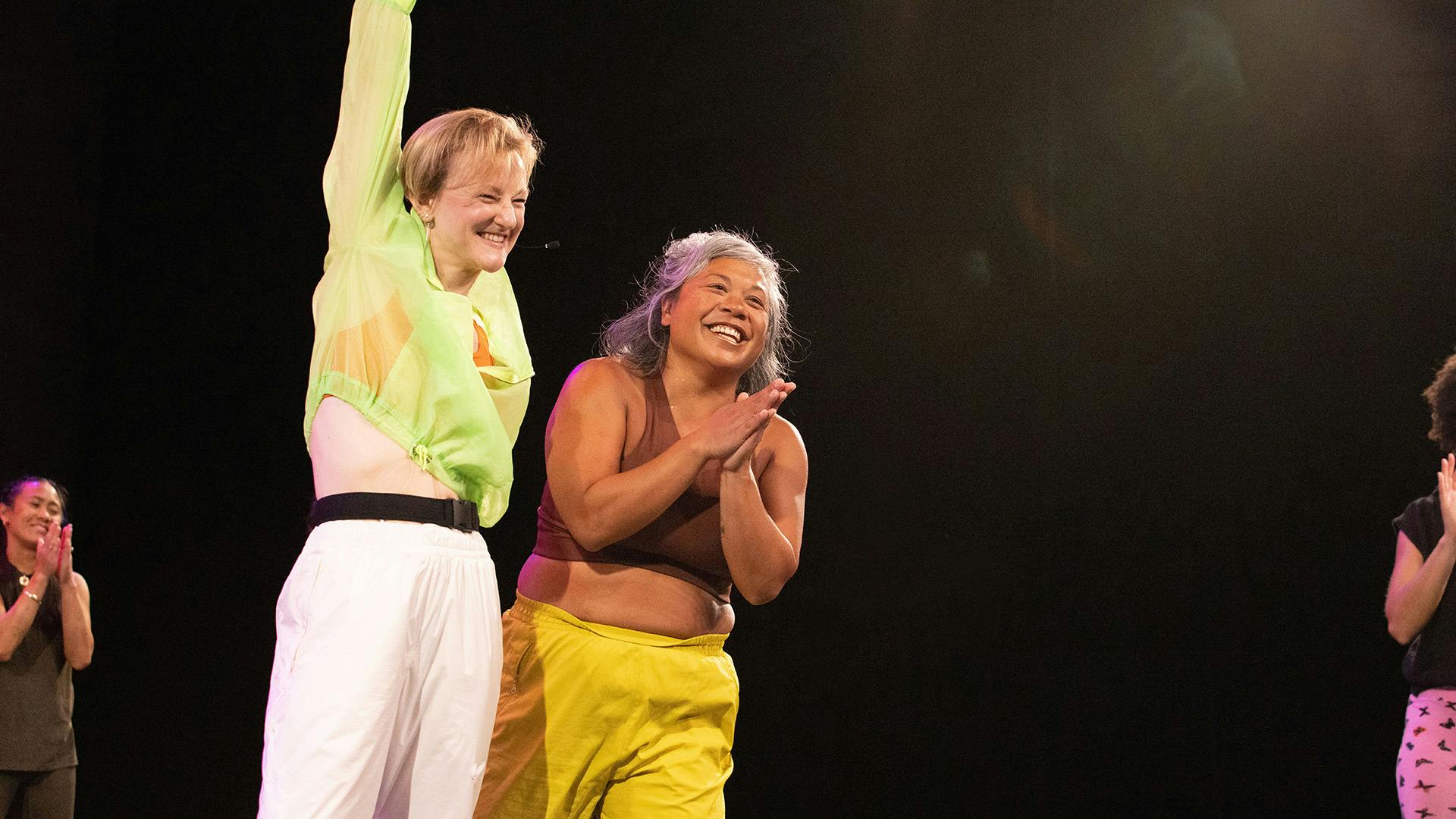 Dance Church®, the wildly-popular dance-focused movement class, announces a four class partnership series with award winning author and Dance Church community member, Angela Garbes, whose first book Like a Mother was an NPR "Best Book of 2018" and finalist for the Washington State Book Award for Nonfiction. Dance Church will celebrate the launch of Garbes' new book Essential Labor: Mothering as Social Change (on sale 5/10). The new partnership will feature a special Mother's Day Livestream class and three in-person classes alongside Garbes' book tour in Seattle, New York, and Los Angeles. 
"Dance Church exists to inspire self-agency by creating the conditions to collectively release the body. We encourage contagious expression; be it laughing, grunting, singing, or crying while dancing to Lady Gaga or a deep rave track in a dark room filled with sober people on a Tuesday night. We've been grinding our pelvises on the floor to Drake and Cassie with Angela for almost ten years and we are thrilled to celebrate her through this partnership series. Angela knows how to take something that is ephemeral and unknown and put that into language. The experience of self discovery, healing and communal care that Angela describes in her book, Essential Labor, is exactly what we hope our community members will experience," said Kate Wallich, Founder and Chief Creative Officer.
Garbes is a Seattle-based author whose work has been featured in the New York Times, The Cut, and more. She has been a long time Dance Church community member, and discusses her Dance Church experience in her books as helping her explore her own self. Garbes' latest book Essential Labor, explores mothering as essential work and shares her own personal journey of exploring how movement and bodily acceptance are important to her own growth, which she discovered in part from participating in Dance Church classes pre-pandemic. The classes helped her to understand how movement is a tool for communication and conversation, love and acceptance. 
The four-part series includes a Livestream on Mothers Day at 10am PT at go.dancechurch.com that is free for all. Following the 55ish-minute classic Dance Church format, Garbes' book Essential Labor will be available for sale. The streamed class will also be available in the On Demand library for Dance Church members.
Three in-person classes will be held May 8 at Gibney in New York City; May 22 at Century Ballroom in Seattle; and June 4 at Stomping Ground in Los Angeles. Dance Church in-person classes are $10 for Dance Church members, $20 general public. Registration will open here on Thursdays at 8am PT for members and 9am PT for the general public.
About Angela Garbes: 
Angela Garbes is the author of Like a Mother, an NPR Best Book of the Year and finalist for the Washington State Book Award in Nonfiction. Her work has appeared in The New York Times, The Cut, New York, Bon Appétit, and featured on NPR's "Fresh Air." She also co-hosts The Double Shift, an acclaimed podcast challenging the status quo of motherhood in America. She lives with her family in Seattle.
About Dance Church:
Dance Church has been bringing people together through the joy and release of dance since 2010 — in real life and on the internet. Designed for people of all shapes, sizes, backgrounds and identities, Dance Church is on a mission to empower people through dance. Visit go.dancechurch.com to take classes on-demand, join the live-stream every Sunday, or register for in-person classes.
About Kate Wallich: 
Kate Wallich (she / her) is the Founder and Chief Creative Officer of Dance Church. Kate is a Seattle-based choreographer who believes in the combined power of artists and the public. A dancer, choreographer, educator, and founder who was named one of Dance Magazine's "25 To Watch," Kate has cultivated community through her inclusive dance-fitness class Dance Church®, her dance companies The YC and YC2, and the non-profit arts organization she founded in 2016, Studio Kate Wallich. Kate's work has been commissioned and presented nationally and internationally by the Walker Art Center, On the Boards, Seattle Theater Group, Mass MoCa, The Joyce Theater, Seattle Art Museum and many more.  In 2019 she collaborated with Perfume Genius on the critically acclaimed dance and music performance The Sun Still Burns Here.
Find Dance Church here
For more information on Dance Church, please contact: 
Ali ali@culturalcounsel.com
Lauren lauren@culturalcounsel.com