Become a Dance Church Teacher, Bring the Sweat to Your City
Applications now open to get Dance Church started in your city.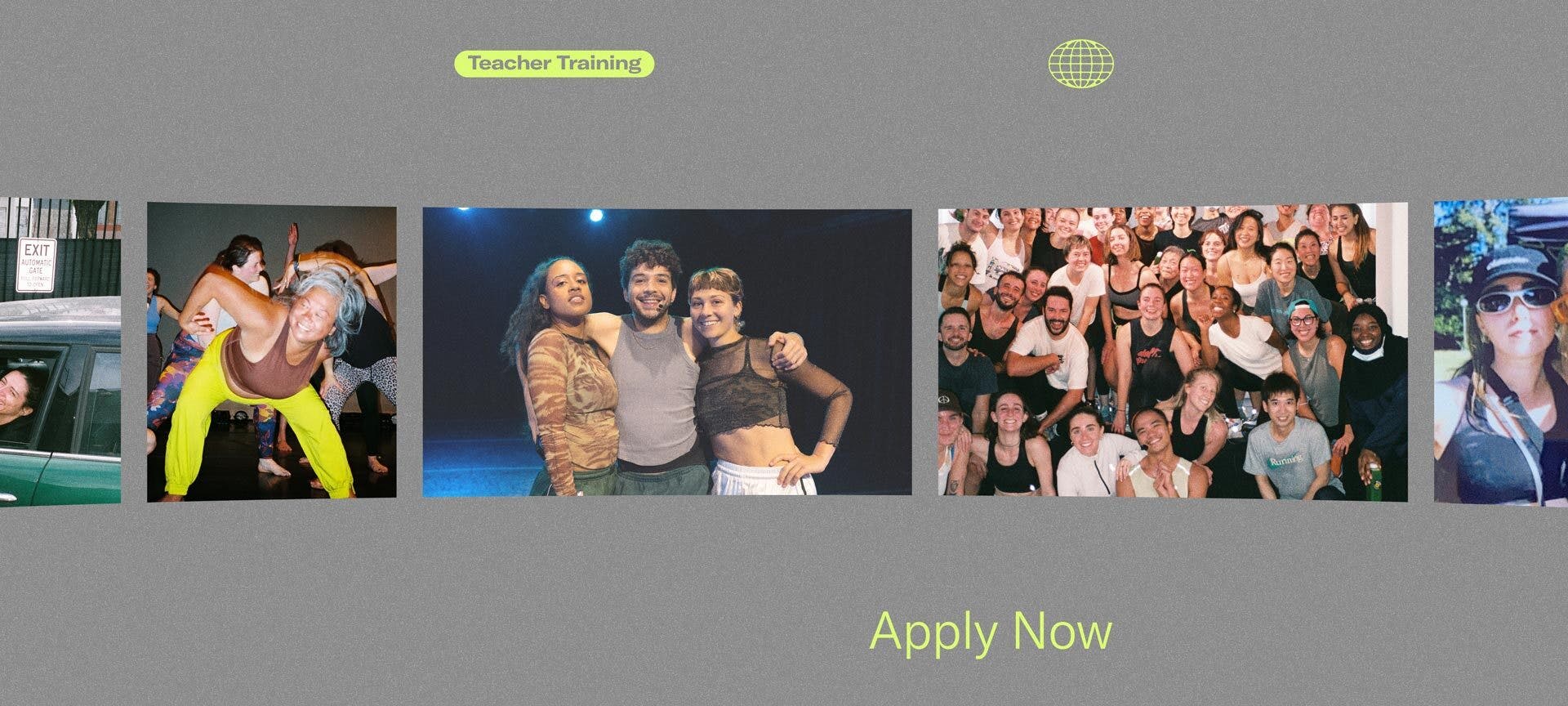 It's finally happening Dance Church. Now you can become a Dance Church teacher. We have officially launched teacher training and a suite of resources for dance artists from coast to coast to grow Dance Church communities and empower their dance careers. Applications are now open. Apply here →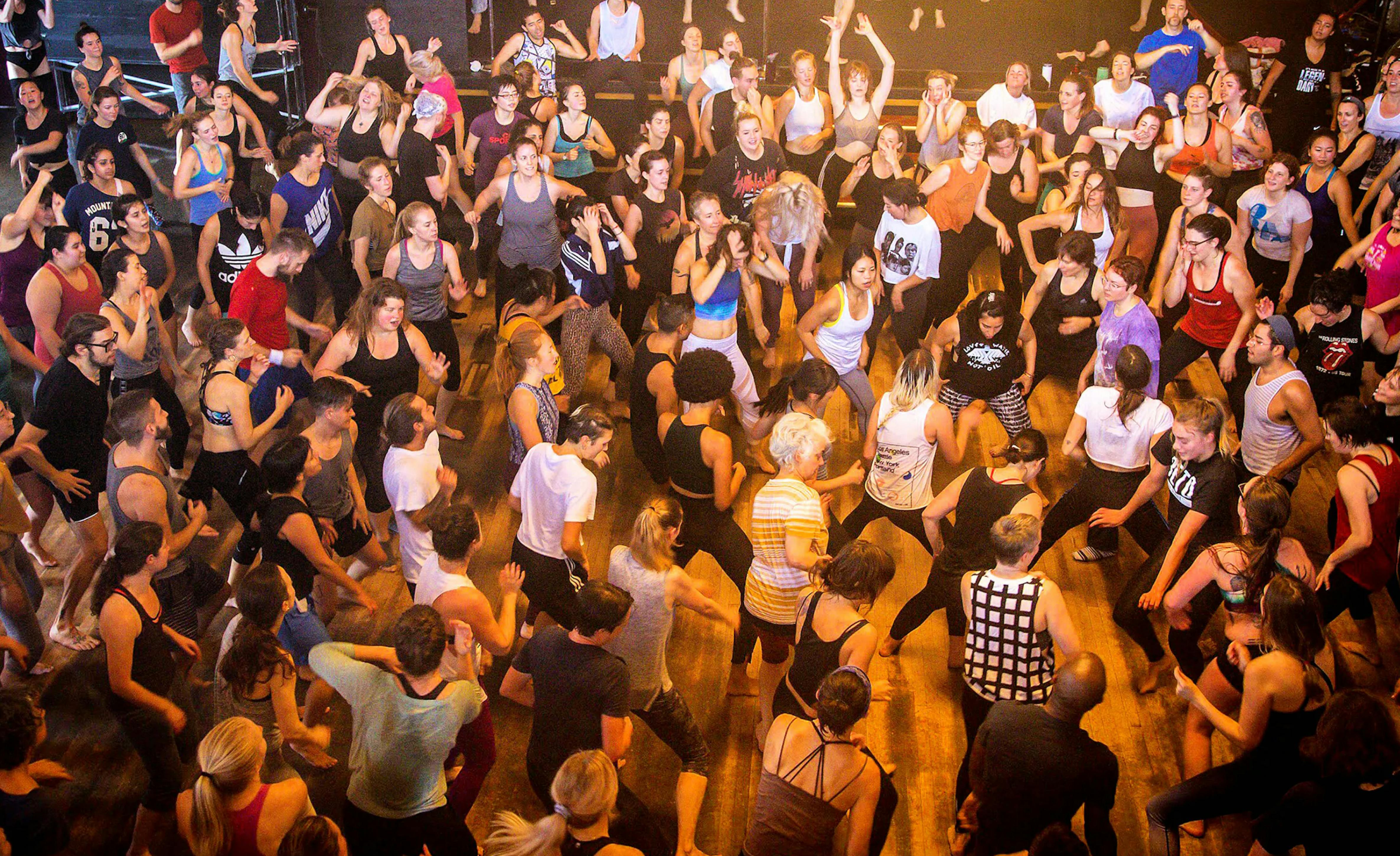 Do you want Dance Church in your city? Spread the word →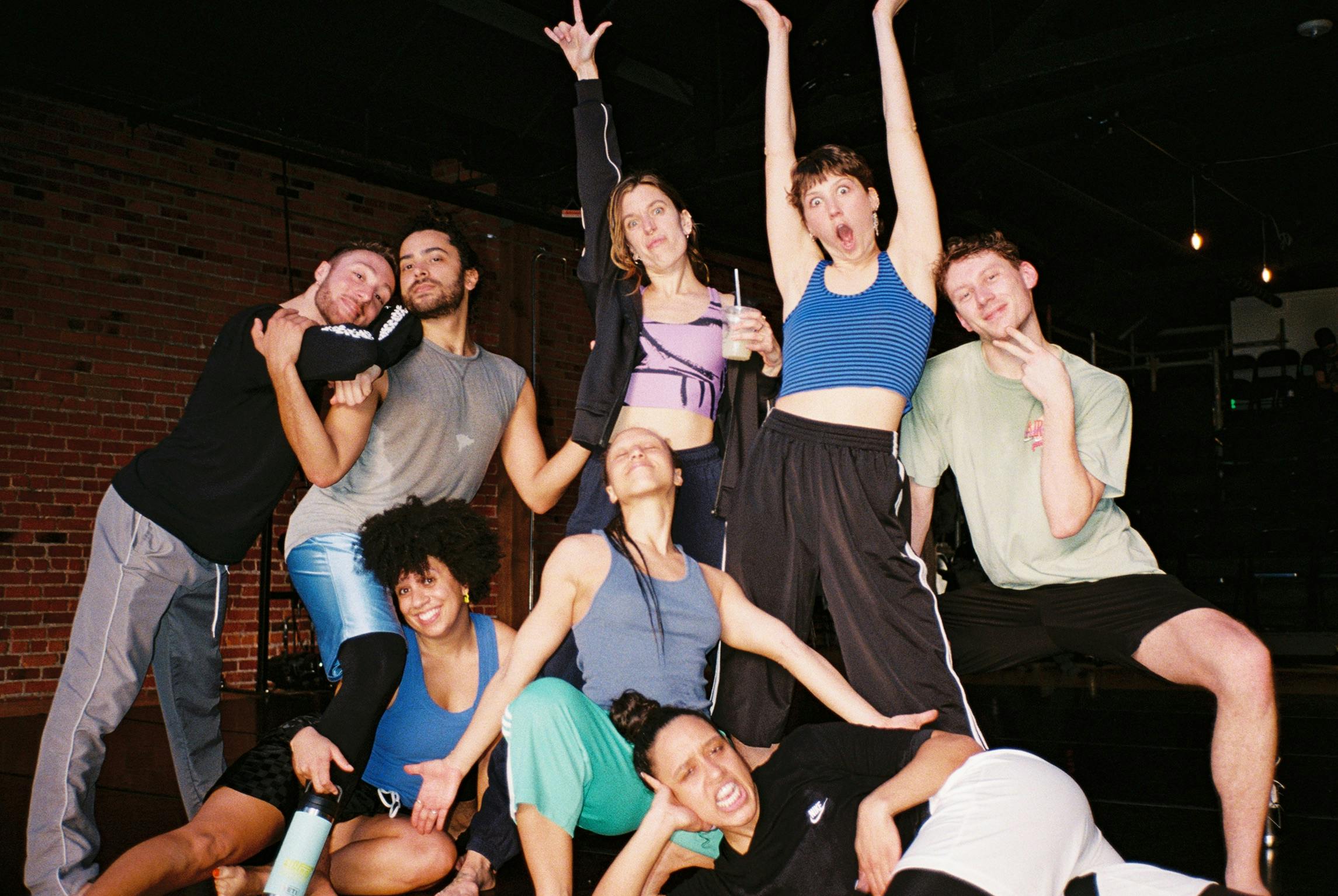 ☞ Read the full Press Release below ☞
Dance Church Launches Platform for Dance Artists to Get Classes Started in Cities Across the Country
Announcing a comprehensive suite of resources and tooling for dance artists to grow a local Dance Church community and empower their dance careers.
(FOR IMMEDIATE RELEASE  — January 18, 2022) Community phenomenon Dance Church, the beloved movement class led by practicing dance artists in Seattle, New York, Los Angeles and Portland, is pleased to announce their plans for expanding the Dance Church offering to new communities across the country and equipping dance artists with a comprehensive suite of support to launch classes including a new model for compensation, and self-serve digital tools for event creation and community engagement. Developed over 12 years of iteration, including a viral pandemic pivot which led to launching an online platform hybrid between in-person and online classes, these resources aim to create a new paradigm for career growth and community connection in the Dance and Fitness industries. Practicing Dance Artists who want to bring Dance Church to their communities can apply here.
A large part of Dance Church's mission is to create new sustainable models for the dance industry that are not solely reliant on grant funding and philanthropic giving, rather, on consumers paying to engage with dance experiences and dance artists. Dance Church's cathartic and inclusive class format invites a broad audience to discover the dance world, by welcoming dancers and non dancers alike to dance it out and work up a sweat. People enter dance spaces they may otherwise not have known about, discover the teacher's artistic career beyond the class, and leave knowing they are supporting working dance artists across the country. This represents a growing audience for the teacher in their dance career outside of class, and for dance venues that host other artistic experiences.
"The more people come to Dance Church, the more people support the dance artists. This model as a community flywheel has been fueling Dance Church and Dance Church teachers from the moment we started training new teachers." says Kate Wallich, Founder of Dance Church. "It's nearly impossible to have a career as a dancer alone, Dance Church is part of a new zeitgeist of dance makers who are championing models for entrepreneurship, leadership and sustainability in the dance world."
Once dance artists apply and pass the screening process, new teachers will receive comprehensive training, and access to the go.dancechurch.com platform. Training is a combination of live conversation and asynchronous tutorials in order to provide an equitable format for learning and to continue a culture of collaboration and community between teachers. New teachers are equipped to lead the in-person class experience, choose and set up a venue, and begin offering classes and growing their community. Dance Church offers ongoing support through marketing, music licenses, training, and engagement with the broader Dance Church teacher community. On the digital platform, they can create their teacher page, schedule and offer in-person events, engage with their followers, and publish photo and video content.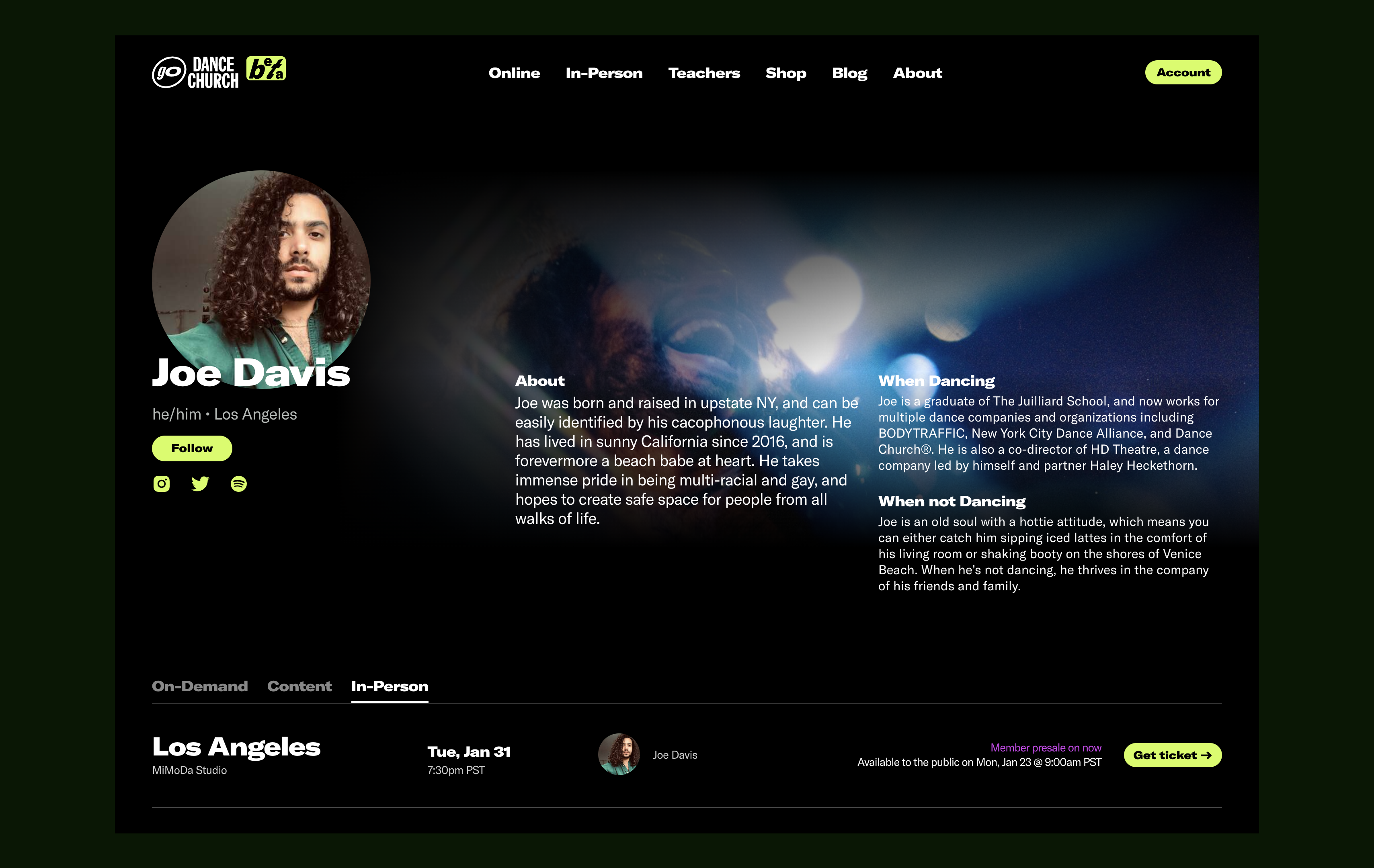 Teacher Page.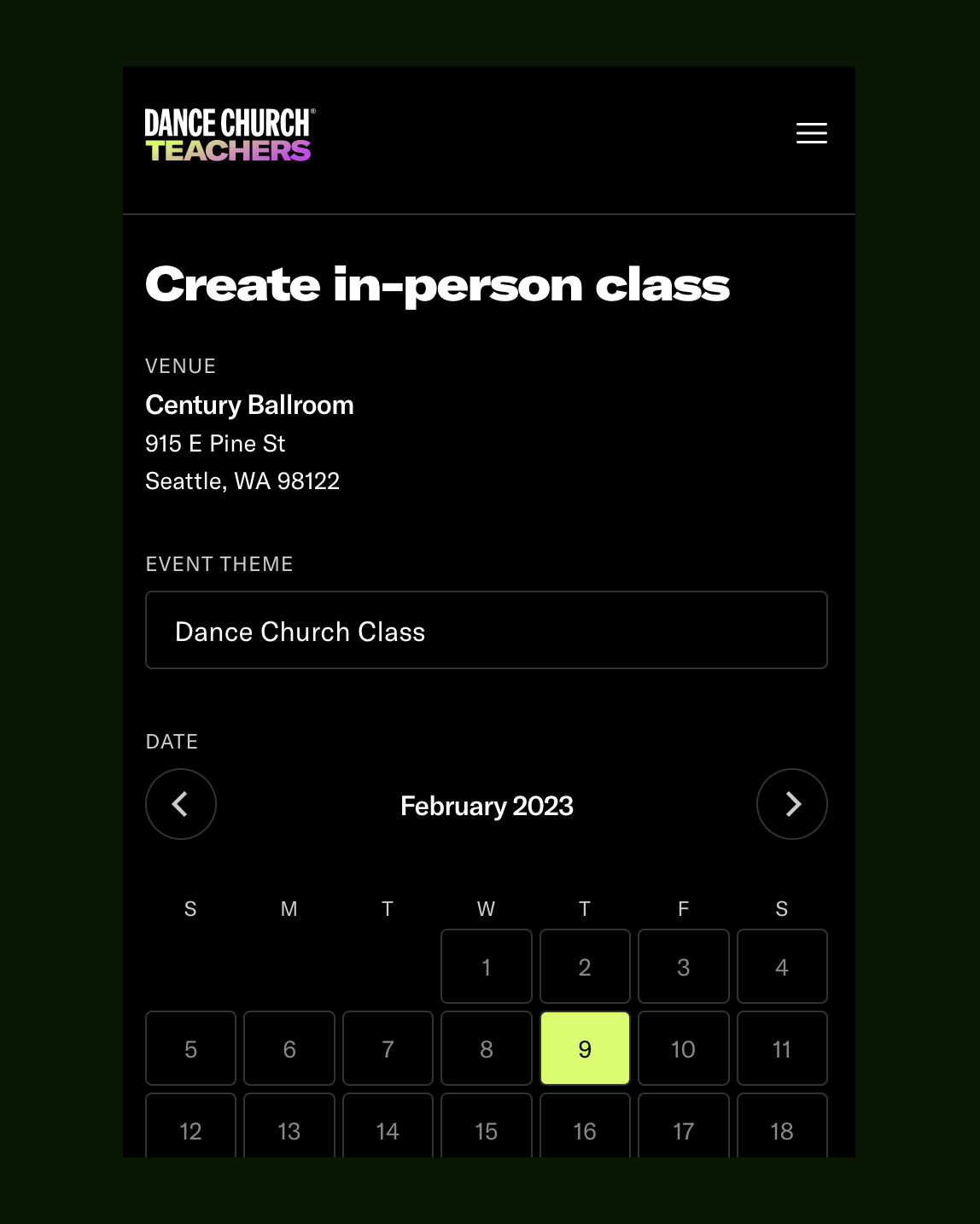 Event creation page for Teachers on the Dance Church website.
"We wanted to package up everything we've developed internally and share it with dance artists in a very broad and inclusive way," said Clara Siegel, Dance Church CEO. "This is years of work, capital investment, engineering teams, all now in the hands of the artist."
This expansion model offers flexible and supportive career pathways for dance artists. Most other offerings, like Zumba and Pilates, charge facilitators to get trained and started, contributing to a systemic issue around sustainability in the dance industry. Dance Church will not be charging dance artists for training and start-up fees, rather new teachers will be W2 employees and compensated hourly for their time training. Teachers will be paid $100 per class plus $3 per class taker, and reimbursed up to $100 for their venue fees. This ensures financial support as they are getting started and allows them to share in the upside as they grow their Dance Church community. Other benefits include access to a 401k.
"It was important to everyone in the organization, from a place of mission, for teachers to be W2 employees," Siegel said. "It means they aren't taking a financial risk to get classes off the ground, and dance artists aren't paying us as customers. We are invested in their success and partnered together on the best experience for class takers."
In 2023, with this new expansion model, you will see Dance Church classes popping up in more cities across the country as dance artists are trained and new cities are launched. Dance Church is on a mission to empower dance and dance artists everywhere, and this launch brings us one step closer to this vision.
Take Dance Church classes online or in person at go.dancechurch.com, IRL classes are $20 per class or $49 / month, On-Demand classes are $19 / month. 
Do you want to start a Dance Church?
Dance artists across the United States are invited to apply to become a Dance Church Teacher and to inquire about growing a Dance Church community in your city — to apply, please click here. For media inquiries and press class passes, please contact press@dancechurch.com.
ABOUT DANCE CHURCH
Dance Church® is an all-levels movement class that offers a fun and inclusive approach to dancing. Designed for people of all shapes and sizes, backgrounds and identities, Dance Church is a communal space for people who want to move their bodies. Founded in 2010 by renowned choreographer Kate Wallich, Dance Church has hosted nearly 50K people in over 1,000 in-person classes and Pop-Ups across the US since 2010, building an impassioned grassroots following committed to spreading the joy and release of dance. In response to the pandemic, Dance Church went viral online streaming classes where over 140K people joined friends and family to dance together across the world. In 2021, Dance Church launched their online platform featuring a subscription video on demand library of classes after raising their series seed (see Press Release, Tech Crunch article), and soon after re-launched their in-person classes to great community demand. Dance Church has partnered with nationally recognized organizations and brands including Walker Art Center, Henry Art Gallery, Mark Morris Dance Center, Ryan Heffington's The Sweat Spot, American Cancer Society, Design Week, Dance for All Bodies, Nike, Nordstrom, goop and Alaska Airlines amongst many others. Dance Church is committed to spreading joy through movement while building community physically and virtually around the world. 
ABOUT DANCE CHURCH TEACHERS
Dance Church teachers are a team of trained, strong, diverse dance artists who live to bring movement to their communities. Whether touring the world with world-class dance companies, educating in top-tier academia, or performing in underground venues in the depths of the performance art world, the Dance Church teaching team is an eclectic group of performance makers and dancers who are committed to spreading the love of dance to everybody.
ABOUT KATE WALLICH
Kate Wallich (she / her) is the Founder of Dance Church and believes in the combined power of artists and the public. A dancer, choreographer, and educator, who was named one of Dance Magazine's "25 To Watch," Kate has cultivated community through her inclusive dance-fitness class Dance Church®, her dance companies The YC and YC2, and the non-profit arts organization she founded in 2016, Studio Kate Wallich. Kate's work has been commissioned and presented nationally and internationally by the Walker Art Center, On the Boards, Seattle Theater Group, Mass MoCa, The Joyce Theater, Seattle Art Museum and many more. In 2019 she collaborated with Perfume Genius on the critically acclaimed dance and music performance The Sun Still Burns Here.
ABOUT CLARA SIEGEL
Clara Siegel (she / her) is CEO of Dance Church and is dedicated to building scalable systems for artists and creators to connect with their communities and grow their careers. Clara has an MBA from Stanford and a Mathematics degree from Reed College and has spent her career building and growing creator marketplaces and community platforms, previously at Amazon, Meta, and Tableau. Launches include Watch Together, Tournaments, an inclusion toolkit for gamers, Facebook Ad Testing, and Tableau's famous Superstore dataset.
ABOUT LAVINIA VAGO
Lavinia Vago (she/her) is the Artistic Programming Director and Lead Teacher of Dance Church®, where she directs all programs for online, in person classes, and partnerships, and leads all bodies inclusivity and outreach initiatives. She is an Italian dance artist, performer, educator, maker, and director based between Seattle, NYC, and Berlin. As a performer she created works and toured the world with Sidra Bell Dance NY, Loni Landon Projects, Vim Vigor Dance, Saint Genet, Tom Weinberger, Corrie Befort,  Out Innerspace Dance Theater, and most extensively with Montréal based group RUBBERBAND. She co-directed and performed with Kate Wallich / The YC between 2010 - 2020. She now creates and tours the world with artist Tianzhuo Chen | Asian Dope Boys in the 12-hours performance TRANCE. She creates dance performance works attacking themes of disobedience, kinesthetic empathy, altered states and collective joy inside experimental soundscapes.
ABOUT THOMAS HOUSE
Thomas is the Associate Director of Programming at Dance Church and has been teaching and helping to expand the organization since 2017 including leading over 250 classes with audiences ranging 10 to 6000 people. Thomas is a dance artist, performer, and creator based in Seattle, WA who received his BFA in dance from Purchase College, SUNY. Throughout his dance career, Thomas has performed and traveled around the world with companies including Abraham in Motion, Liony Garcia, Kate Wallich & The YC, Aszure Barton & Artists, Seattle Opera, and the Merce Cunningham Trust. Between 2017-2021 he was an Associate and a Board Member with Studio Kate Wallich. As a choreographer, Thomas has presented dance performance creations with composer Kayla Cashetta in NYC and Seattle.
ABOUT TARIQ MITRI
Tariq Mitri (he / him) is the Program Manager, Co-Training Manager, and Teacher for Dance Church. He began leading Dance Church classes in 2017 in Seattle, and since has helped with the growth of IRL classes in New York City, and Seattle. Tariq is a freelance dance artist, performer, and creator based in Seattle, WA. He's worked for a variety of choreographers in Los Angeles, New York City, and Seattle that include MADBOOTS Dance, Kate Wallich + The YC, WHYTEBERG, and Caitlin Adams Studio. From 2019 to 2021, Tariq was the co-director of NYC based dance company HEIDCO.
To get a sense of the community, check out @danch_church on IG.
PRESS CONTACT / MEDIA INQUIRES
Dance Church Press