Meet Symone. Our newest teacher in Seattle.
You've seen her on the dancefloor. Now get ready to take class with her!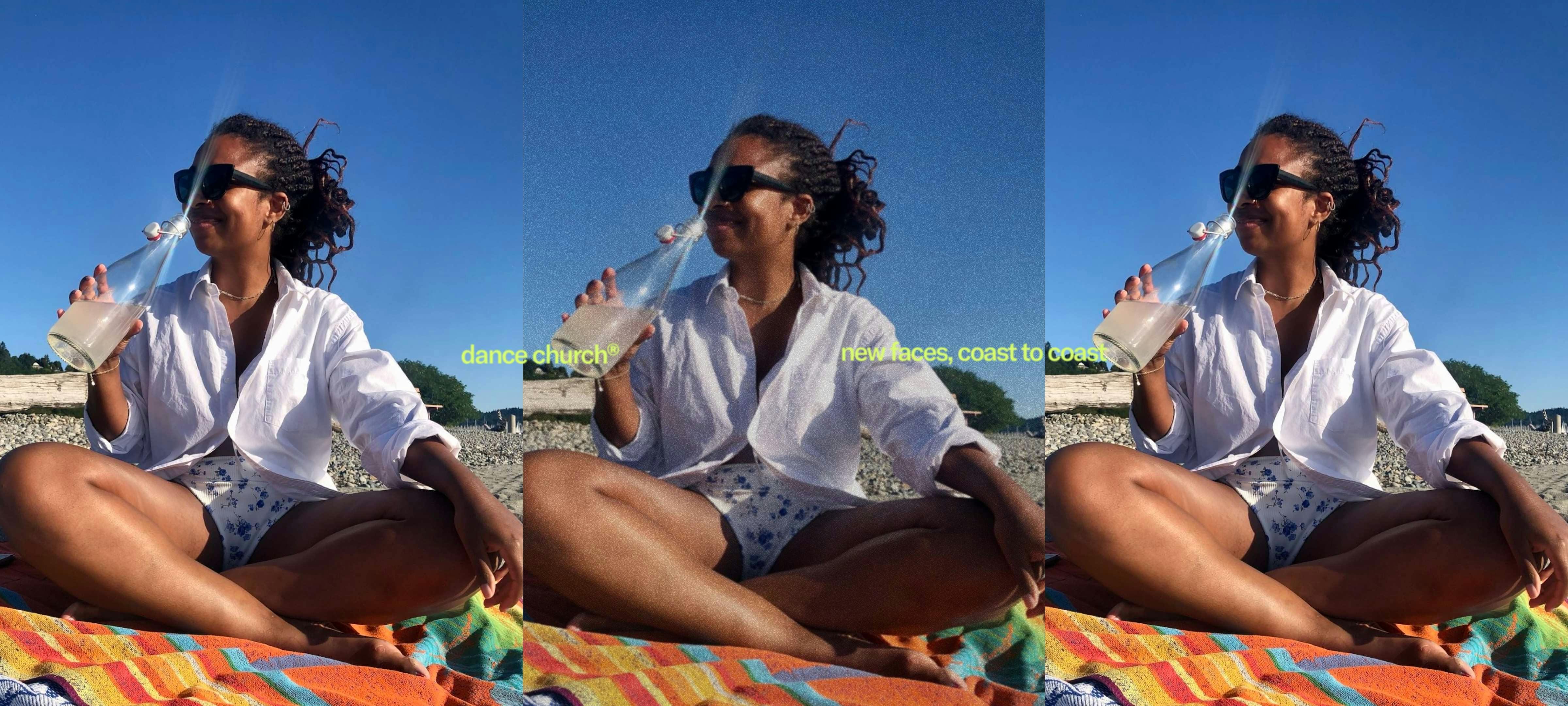 Dance Artist Symone Sanz (she/her) has been in love with Dance Church for nearly as long as the rest of Seattle has been obsessed with our weekly classes. We've danced with Symone many times over the past years, and now we're thrilled to introduce her as a Dance Church Teacher. A self-described "highly femme, Britney Spears fangirl," with a background in postmodern dance, ballet, and cheerleading, Symone brings a thoughtful, pop-loving wildness to the floor.
☁️ Symone, we are so thrilled to introduce you as a Teacher to this DC-obsessed city. You've been taking Dance Church classes in Seattle for years now. What inspired you to start teaching?
☁️ Symone: I crave the physical, emotional, and intellectual rigor that I feel while dancing. And I love spaces where I can be my silliest, messiest, wildest self and invite others to do the same. Dance Church classes have always been a place for me to explore in that way, and now I'm excited to help hold that space for others. I love the physical challenge and fun of class, and I also love that class can bring up values like honesty, bravery, and self-respect.
☁️ You're talking about the ways that movement can reflect or amplify identity and community. As a dance artist, you must experience this kind of excavation and expression on stage, in crafted works. But do you also feel it in a dance class?
💘 Symone: Yes! DC feels like a safe space to explore sides of my identity that I have discovered through performance. In class, I find myself using explosive joy as a tool to work through the frustrating and sometimes disheartening experience of life as a Black woman. This community values the idea that everyone needs support, and everyone can offer support. I hope my presence encourages folks who are members of marginalized communities to see themselves in class. That would be more than I could ask for.
☁️ It sounds like community is a big driver for you as an artist and teacher.
💘 Symone: Absolutely. I am embedded in a lot of different facets of the Seattle arts community right now: I'm a freelance performer, class taker, and show attender. I'm also on the board of Velocity Dance Center and Das Biest Performance Project, and my "day job" is with Seattle Opera. But I've been craving a more embodied kind of exchange with a broader collective of people in Seattle. To me, building community means showing up and offering your time and energy, and Teaching Dance Church feels like an exciting way for me to physically embody that kind of community investment and exchange. This is the best gift I see given (freely and often) in the Seattle dance community.
☁️ Can't wait to be on the dance floor with you, Symone. When will you start teaching?
💘 Symone: Catch a first class with me in November! But you'll start to see me doing check in and supporting Seattle classes even sooner than that. Definitely say hi!
☁️ Amazing. Any performance projects on the horizon in the meantime? 
💘 Symone: I'm super excited to make my choreographic debut at On the Boards next month! I'll be sharing work in To Gather, a show curated by Nia-Amina Minor and David Rue, running October 5-7. 
☁️ Last question: you've told us you're a Leo sun, pop-obsessed, high-femme, rigor-loving dancing queen. That's some delightfully big energy! Give us a taste of the kind of music you're excited to bring to the dance floor for class?
💘 Symone: