Dance Church dances with Harborview Medical Spinal Cord Injury Patients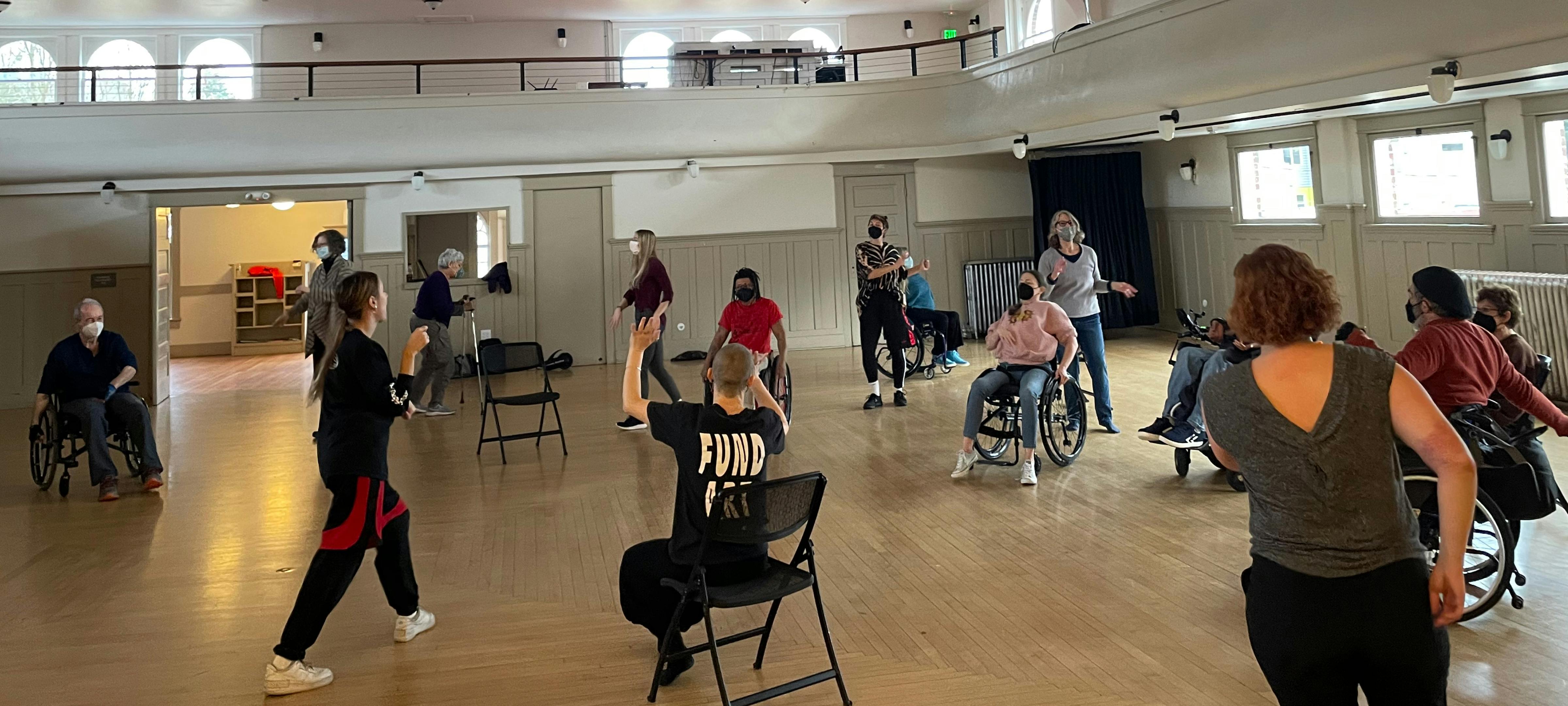 Last year, long-time Seattle community member, Becky Hansen, reached out to us after seeing   we were partnering with Dance for All Bodies (DfAB), an organization that provides accessible and inclusive dance classes that dismantle ableist narratives, on a series of trainings and classes for dancers with disabilities (see blog post). Becky and her colleague Kristy Grand, both of whom are Physical Therapists at Harborview Medical Center in Seattle, were interested in acquiring more knowledge around movement and dance for their Spinal Cord Injury (SCI) patients. Lavinia Vago, our Director of Programming and lead on our all bodies inclusivity initiatives, connected Becky and Kristy with the DfAB team and they went on to create a special class for the Harborview SCI patients led by DfAB teacher Janice Laurence (you may recognize Janice from this IG dance break with Karl) last Spring.
After the success of this experience, Lavinia, Becky and Kristy continued to meet with the vision of developing a Dance Church class specifically designed for SCI patients. Thanks to funding from The Craig H. Neilsen Foundation, Lavinia — who has also received trainings in Dance for Parkinsons through the Mark Morris Dance Center, attended the American Dance Therapy Conference, and has been studying Accessibility, Therapeutic and Healing properties of Dance — spent weeks adapting the Dance Church format and hosted a Dance Church class for the Harborview SCI patients last week at Washington Hall, with support from Dance Church teachers Alethea Alexander,  Maya Tacon, Carlin Kramer and Tariq Mitri. 
Before the class, our team worked with Harborview Physical Therapists, along with an SCI patient,Andre Watts, on a training to learn more about Spinal Cord Injury Patients. The training included history, definitions, appropriate language usage, subjectivity and diversity of patient experience. Lavinia and the training team will be developing and systemizing all the learnings from this experience to share with the teachers at Dance Church. This is another major step towards Dance Church offering more accessible and expansive classes in our future.